Individual language training
Do you want to speak a language quickly and get the full attention of your teacher? Then Babel is the right place for you! Learn a new language effectively with our individual language training. An one-to-one language course is the fastest way to learn a new language. You will have the full attention of the teacher, helping you to make fast progress.
Our private language training is aimed at meeting your individual language learning needs. Babel provides individual courses in 15 languages, including: Dutch, English, German, French and Spanish. These personalized courses are suitable for learners at all levels, from beginner to advanced. You can choose your own schedule to suit your needs and availability.
---
Why you should follow a private language course at Babel?
Our language courses:
Choose a course in Dutch, English, German, French, Spanish, Portuguese, Italian, Swedish, Norwegian, Russian, Arabic, Chinese, Japanese, Korean or Indonesian.

Choose the most suitable location for you:
Our language courses can be given at a location of your choice: in one of our virtual classrooms, on-site at Babel, or in your company's premises.

Flexible learning to fit your schedule:
You'll always find a course to suit your schedule. It's nearly always possible to start your course within two weeks.

Personal attention:
It is our aim to support you during the start of the training till the end. In your private lessons you will receive the full and undivided attention that you need.

Practice-oriented:
Learning in your own career context with a teacher from the field.

Mixed-methods
For example you can choose to combine classroom lessons with e-learning. We will customise a learning plan with you.
---
Which training suits you?
Your course will be fully customised to match your English level, goals and career needs. We have designed our course offer so that it is accessible to anyone. There are lots of options available. Our teaching advisors will inform you on which course suits you best. We have listed our most popular packages for you.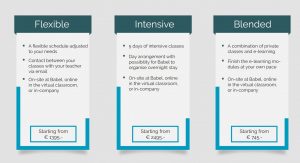 ---
Get started with online learning
You can also practice from home or work with our online learning courses. You can choose to take private lessons in our virtual classroom and/or with e-learning. Below we explain our online options.
---
What to expect from the classes?
Our language courses can be seamlessly adapted to suit your schedule and your learning objectives. This will ensure you get the most out of a training course. Below you can see an example of the learning approach:
| | | |
| --- | --- | --- |
| | | |
| Before the course, our teaching advisors will get in touch with you to create a program based on your goals. During this program we will address the specific skills or topics required to achieve the desired goals. | During the training we closely observe your progress. The teacher will guide you through the process and give specific feedback. | At the end of the course, you can choose to take an (official) final examination to determine your current level, if this is useful for you. With Babel's Continuous Language Support you can also continue to improve your language skills, even after the language course has finished. |
---
Get advice about our tailor-made course
Are you interested in an individual language training? And would you like to know more about the possibilities? We are happy to help you get started! Call us on 030 – 227 0008 or email advies@babel.nl.