Korean 3 course (A1+ → A2-)
Level: Beginner (0/A2)
Would you like to share your opinion with Koreans? To get to know each other better with more extensive questions and answers? This course will help you to make friends more easily! In Korean level 3, you work towards language level A2-.
About Korean level 3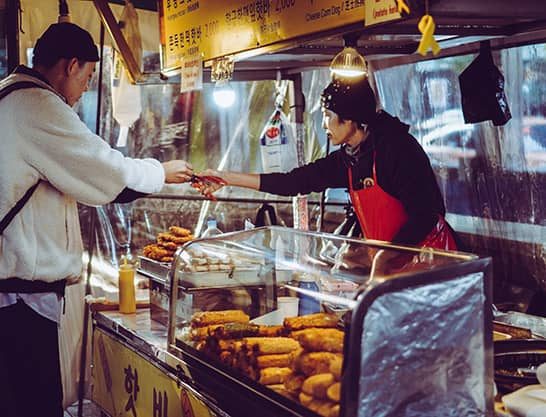 This course will continue from where Korean level 2 finished and will also help you to further interact with Koreans whether you go to Korea on holiday, on a study exchange or on business.
During this course you will learn:
grammar, vocabulary and verbs, how to express your opinion and ideas, and how to give more detailed descriptions so that you can have a conversation at a more advanced level.
what is culturally appropriate in various situations.
Studying Korean during this course is not just about listening to the trainer and filling in your workbook,. It is also about playing games and using audiovisual resources so that you can learn Korean in a fun way.
Learning goals
This course is aimed at those who wish to achieve level A1+.
After completing the course you will be able to:
connect clauses and main sentences.
express opinions and ideas.
give reasons.
make polite requests.
provide more detailed descriptions.
Learning method
This course follows on Korean level 2. You can also start this course with level A1.
During class, you will take part in listening, speaking and writing practice. The trainer will explain the vocabulary and grammar, and provide extra examples. Some assignments will be done individually or in pairs.
Time Investment
This course consists of 9 sessions at Babel in Utrecht or in the virtual classroom.
The advised self-study load is 2-3 hours a week. It is important not only to do your homework, but also to regularly spend time working on expanding your vocabulary.
Practical
The classes will be given in English, but additional Dutch explanation is possible when needed.
In this course you will use the textbook and workbook of 'Integrated Korean Beginning 1 second edition'. Please make sure to order the required materials on time, as there might be some delay in delivery.
If you work or study at Utrecht University you will receive a 15% discount. Please register with your UU email address. Your registration will then be processed automatically.