Intermediate Dutch (B1) individual online
Level: Intermediate (B1/B2)
Do you have some basic knowledge of Dutch? Would you like to increase your level in an individual and flexible course? This course is suitable for you if you would like a large amount of personal guidance and feedback. You will be able to understand everyday conversations and you will be able to understand texts at an intermediate level.
About the course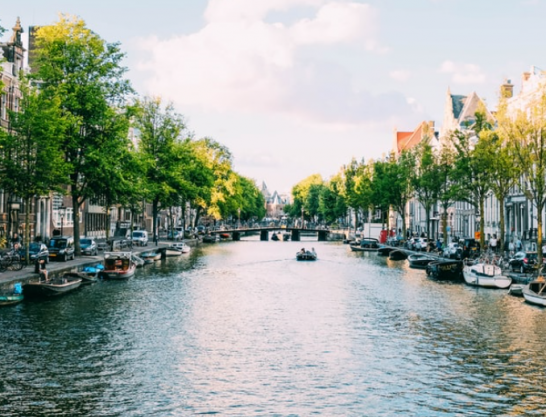 The course Dutch level B1 via distance learning consists out of 17 individual Skype-sessions of 1 hour. The course also provides online materials that you can use to help you during your studies.
The course is suitable for participants who (are planning on) moving to the Netherlands. It is particularly handy for those who cannot fit a group course in their schedule. Do you have a higher educational background and do you like to work independently? Have you achieved level A? This course will suit your needs perfectly. The materials will focus on improving your reading, listening, speaking and writing skills. We will work on a variety of themes: working and studying in the Netherlands, the weather, communication skills, living environment (house and home), politics and art.
In the online learning platform you will find the lesson plan of the course. This is accompanied by extra materials to support your learning process.
video's that introduce each theme
video's with dialogues
powerpoint presentations with grammar explanation
links to different websites with extra materials
4 brief language tests (1 test per 2 themes) with answers. These allow you to test your level independently.
Learning goals
This course prepares you for language level B1. The course is suitable for your needs if you've already achieved level A2.
After completing this course you are able to…
read most practical reading texts about a diverse amount of topics;
understand most dialogues at a simple level;
partake in different conversations in practical situations (social talk, phone conversations, meetings and discussions);
write short texts (e-mails, messages on social media) and longer texts (letters, responses to discussions) in Dutch;
you've reached the necessary level to partake in the State Exam NTS (variant I).
Method
During the course you'll work with the book 'De Sprong'. This book also gives access to a website which contains all of the audio files and the answers to many of the assignments. This will give you the opportunity to work on the assignments independently.
The course also gives writing assignments which you can hand in by email. Your trainer will provide you with detailed feedback during your Skype-classes. You will mainly practise your speaking skills and ask questions of your trainer.
The trainer is an experienced professional who will help you reach your goals.
Time investment
The course consists out of 17 Skype sessions of 1 hour. Apart from these sessions you will need to work on the materials for 6 to 8 hours a week. The assignments you will need to improve your reading, writing, grammar and vocabulary skills are explained in the online learning portal.
Practical
During class we will speak Dutch for the majority of the time. If needed your trainer can translate a word or give a brief instruction in English.
We will use the book 'De Sprong. This book is suited to participants with a higher educational background. It will help you learn the basics of the Dutch language. The book contains materials, such as written texts and exercises, that are specifically suited to your level. It also contains authentic materials (reading fragments from brochures or the internet).